Latest Updates:
Our online version is working for Awards Cards, Rank Cards.
Blue Cards service is currently down.
Online printing supported browsers:
Use desktop versions
(mobile coming soon)
FireFox web browser (Mac)
FireFox web browser (Windows)
NOTE: If you run into issues with the website using the FireFox browser, please empty the browser cache and restart your browser. This can fix many issues.
Here is a link to Mozilla FireFox for Support with directions for clearing the cache:

Download FireFox Browser FireFox Support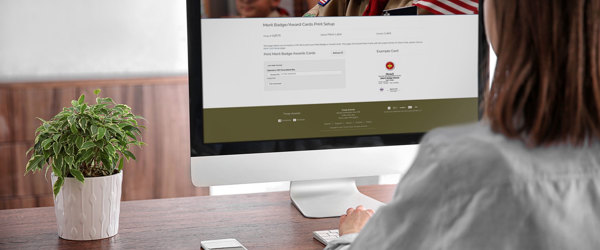 Online Printing Notes:
Online printing settings:
Use 8.5" x 11" for paper size
Select SCALE = 100%
Don't use "Fit to Page"
Use default margins
Uncheck "Print Header and Footers"
Uncheck "Print Backgrounds"
User Guide (Download version):
Release notes (Download version):
This version is being discontinued, so any support is found on this page. There is no technical support offered for the download version.
Troop Awards is not compatible if 64-bit version Office is installed on your system. To use Troop Awards, please make sure you have the 32-bit version of Office. This is the default install from Microsoft, but some users install the 64-bit version by mistake or for specific task-related needs.
Read Microsoft's support on on this issue
8/4/2016 - Release 3.3 bug fix. Minor issues with signatures on official BSA cards fixed
Upgraded to Microsoft Access 2016 runtime
Upgraded to the newest version of the Access image management utility
Added several new merit badges to the list - Animation, Digital Technology, Game Design, Signs Signals and Codes, and Mining in Society
Fine-tuned the award templates to be more printer friendly (increased spacing around margins)
Increased the size of the leader signatures on award cards
Free image files for award cards - copy all of these free, publicly available images into the \TroopAwards3.2\AwardFiles\Troop folder.
Added links in the application to helpful video tutorials (work in progress)
New blue card sheets now are perforated to not break apart easily at the tri-fold
4/24/2014 - Release 3.01 fixes a minor bug in the custom merit badge certificates.

If you aren't having an issue, you don't need this patch
Also added support for Windows XP - just download an replace the troopawards3.01.accdr with troopawards3.01_2010.accdr file
3/29/2013 - Release 3.0 is now the current version. You need to install Access 2013 free viewer unless you already have Access 2013 installed.
Version 2.3 Notes
1/11/2013 - Support Notice. If you have trouble running TroopAwards on your PC, then you may need a Microsoft Hot-fix.
One customer came across a problem and we resolved it in the following manner:

Download and install these Microsoft patches. You may not need them all but it will let you know if you do during install. These address Microsoft bugs in Office 2010.
Make sure you are up to date with your Windows Updates.
You may need to grant Write Access to the folder in which you install TroopAwards if you install to the default Program Files folder.
You can also try installing it to My Documents instead. You can actually just copy and paste the entire folder into My Documents after install.
I apologize for any inconvenience! Microsoft Access is a great tool but like anything (well, more than many things) it has it's share of "issues" we sometimes need to work around.

Process to allow Write Access:

In Windows Vista and Windows 7, the Program Files folder (where many programs' installation folders are located) is protected with security restrictions where administrator privileges are required to write inside that folder. Programs without administrator privileges have their write attempts to this folder redirected to the "VirtualStore" folder in your user account's folder tree. Thus, if you have TroopAwards installed in the Program Files folder, it is recommended to run TroopAwards as an administrator so that it can have the administrator privileges necessary to write directly to its installation folder.
It is possible to remove those security restrictions from a folder in the Program Files folder, such as the TroopAwards folder, thus removing the requirement of administrator privileges to write to that folder.
Below are instructions on how to do this. If any User Account Control dialogs pop up along the way, choose the "Continue" button in them.

Right-click the TroopAwards2.3 folder in your Program Files folder and select "Properties". In the resulting dialog, choose the "Security" tab, then click the "Edit" button.
In the resulting dialog, select the "Users" entry in the "Group or user names" box, then, in the "Permissions for Users" box below that, check the box in the "Allow" column for "Full Control" and make sure all the other "Allow" boxes are checked (except for the "Special Permissions" box). Click the "Apply" button, then click the "OK" button.
Back in the Properties dialog, click the "Apply" button (if it is not disabled), then click the "OK" button.
Minor bug fixes to TroopHistorian and Directory. Click on version# in the application to view complete change log
Changed Journal to TroopHistorian
Minor bug fixes. Click on version# in the application to view complete change log
Major new release with many new features
Cub Scout Awards - print award cards and Pinewood Derby cards, both BSA and custom sheets
Calendar - Print a custom calendar with all your important dates, using 3 photos of your choice for each month
Journal - keep a photo record of your Unit's events and print them out or share as a photo book pdf
Added SPL and Committee Chair signatures to award cards, custom and BSA
Added image navigation controls for award images